Contemplative Times, Issue # 6
The Newsletter of Meditation Chapel
The Meditation Chapel Vision
Meditation Chapel nurtures unity and world peace through the sharing of divine stillness and sacred listening. We support groups of all faith traditions in offering and sharing the contemplative experience through the sacramental use of technology.

---
Letter from the Editor
"The secret of health for both mind and body is…live the present moment wisely and earnestly." Gautama Buddha
Perhaps ironically, while the world experiences a major pandemic, many are taking the time away from "the usual" to reflect upon various states of health – physical, political, educational, financial, relational, etc. Undoubtedly, people are also contemplating their spiritual health, for there exists a symbiotic relationship between spiritual well-being and health in body and mind. I have invited members of our community to explore the theme of spiritual health in this issue of Contemplative Times. 
I came across the rarely used phrase, "In fine feather" recently. This was used originally to describe a bird with clean and bright feathers. It later became an idiom to indicate a person's state of well-being. When I listen for what being "in fine feather" means to me, some words float across my inner landscape: Balance, integration, trust, and alignment. How I make these a part of my daily constitution is by application of practice, rhythmic check-ins with the Divine, and participation in community.
Practice means meditating every day, and usually that includes some kind of creative meditation in addition to silent sits. Painting, sketching, and sometimes gardening are salubrious endeavors. Rhythmic check-ins include an Ignatian-based reflection on where I am led both to and from faith, hope, and love. I must remain in touch with and aware of all that I am cultivating within myself to maintain a state of good health. Participation in community is rooted in Meditation Chapel, but also in my home environment and in my connections with friends and colleagues. I try to balance community with solitude, because I believe that both are needed for spiritual and emotional fitness.
In the recent months, teleworking from home has allowed me to "take stock" of my current life, in terms of what I value, what I tolerate, what is life-giving, what I need to let go of and what I need to let grow. This is an ongoing process, a deep rhythmic integration of daily walks in the physical, natural world, and daily pilgrimages into Sacred lands.
Spiritual health, like any other manner of health, requires maintenance, and all of us are invited to remain present and aware and make any necessary adjustments as Spirit leads. Trusting the Divine to guide and direct us toward wisdom, into Love, and to help us inhabit the balance of co-operation and grace is the fine feather of spiritual health.
What does being "in fine feather" look and feel like to you? As you read through this issue, contemplate your own spiritual constitution, knowing you are companioned by Grace.
I offer deep gratitude to Elspeth MacLean, Tom Amsberry, Cindy Kuhn, Clara Gagnon, Nancy Ann Edwards, Janice Andrews, Robin Pantermuehl, Karen O'Brien, Joan Mistretta, Linda Segraves, Sandra Miller, Marcia Stoner, and Roger Sessions. Roger has compiled numerous messages from Meditation Chapel members that serve as a testament to the robust health of our community. Thank you all for making this issue a dynamic reality. 
As always, thank you for being here.
Laura Waters
---
BREAKFAST WITH A SQUIRREL by Robin Pantermuehl
A squirrel and I shared breakfast time today, I at my sturdy kitchen table and he on a high branch of a crepe myrtle in the back yard.  The flowers are gone and the berries ripening.  They seem to be a favorite of my furry friends.
He was out almost to the edge of a very thin branch, sitting perfectly still as it moved gently up and down in the breeze.  He'd reach for a berry, then sit in stillness as he joyfully, it seemed to me, ate his breakfast.  When he had plucked all the berries near him, he fearlessly moved further out on the limb.  I was concerned he'd fall, but whenever the wind or his reaching movements swayed the thin branch, he became still, then continued to eat.  Finally, all but the furthest berries were gone.  He reached for one but the branch bent precariously.  Without a thought (or so it seemed to me) he unhurriedly turned, walked along the branch and jumped to sit on the fence.
After rubbing his nose with his paws and wiping his face with his bushy tail, he turned his face and seemed to look directly at me.  We shared a moment or two (who knows?) of stillness and togetherness and then he ran along the top of the fence to continue his day.  I took a moment more to bless the squirrel, the crepe myrtles and joyfully give thanks to the Creator of All. 
As I left the table to begin my morning time of Centering Prayer, I sensed the stillness of the squirrel's shared experience within me.
What a wonderful gift!
What a blessed way to start the day!
These are the lessons I learned from my breakfast with a squirrel:
Stillness yields stability, so

When things get rough, be still and center yourself

Enjoy what is before you

Don't be afraid to go out on a limb, out of your comfort zone

Take time to savor what you have been given

Know and accept your limits, without letting them keep you from moving on

Go forward in joy

Know that stillness is within you, always

Wisdom is given when, in stillness and quiet, you open the depths of yourself and connect with creation, the Creator and others
---
Yearlong spiritual enrichment: The Word of The Week is a weekly contemplative view into liturgy, with reflections and sometimes videos of Thomas Keating, and practice suggestions for daily life. Read more here, including samples of past emails.
---
UNINSTALL, DECLUTTER, and LET GO  by Elspeth MacLean
My laptop seemed to be struggling, it was very slow to get started, and then prone to freezing just when I needed it to perform something quickly.
With advice from a good friend, I engaged the services of a computer expert she knows and trusts. Via mobile phone SC directed me to download a program onto my laptop which would enable him to work on it remotely. I put my trust in him, and as I sat at my desk I watched him move the cursor around my screen, an odd sensation of being out of control, but in a good way. He identified a few programs and asked what I used them for. As we chatted, he, with my permission 'uninstalled' bits of software I no longer use, and generally cleaned up my laptop.
Then it struck me that I am a bit like my laptop just now. I am struggling with the lockdown, with trying to minister to people remotely, with prayer, with all the old negative feelings and memories that crowd my mind. I find it increasingly difficult to get started doing anything, and my brain tends to freeze at inopportune moments. Oh, if only SC could work his magic on me!
As I meditated I saw that God is always ready to do for me what SC did for my laptop, I just have to trust Him, and connect, and hand over control, take my hands off. In meditation, we trust God and connect with Him. Now all I need to do is stop trying to change myself, stop trying to 'uninstall' those repetitive negative thoughts. When I am really still, silent and surrendered, God is busy cleaning up my mind and heart, always checking with me first before He deletes anything, but He is the One doing all the work! I do not have to struggle on alone.
Such joy fills my heart, and now there's more room in it, as, day by day, God declutters my inner room.
My laptop and I are both functioning better now, and we both know where to go when we get sluggish again.
A wee postscript. Many years ago SC was involved in a serious car crash, it was touch and go whether he would survive. He did, but a serious brain injury as well physical injuries meant a long slow journey to recovery. His girlfriend, now wife, stuck by him every step. He wondered if he'd ever be able to work again. For a short while he was a neighbour of mine, and I remember praying for his recovery to continue. Now, my goodness, he has a good job, wife and two children, and is willing to patiently help technology dinosaurs like me.
He has no idea how much he has helped me, not just my laptop.
"Let go and let God."
I've been saying it for years, but this experience has taught me to do it, again and again.
---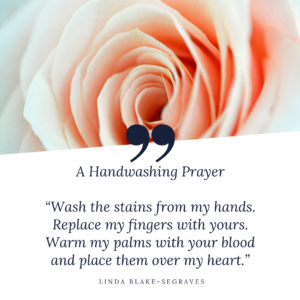 ---
ROOTS by Nancy Ann Edwards
"No tree, it is said, can grow to heaven unless its roots reach down to hell." -Carl Jung
The image of the Tree of Life is sacred to all mankind. Its roots, as Carl Jung says, "reach down to hell". The symbolism of roots reaching down to hell reminds me of Jesus's descent into hell on Holy Saturday. I never understood the profound symbolic, psychological meaning of Holy Saturday until I read Jung's statement. Each Sunday when I repeated the words of the Apostles Creed, "He descended into Hell" I had no idea of what I was saying. At best, my understanding was solely literal.
It is the Tree of Life with roots extending into Hell that gives the phrase "He descended into Hell" a deeper meaning. The story of the Light of Christ descending into darkness to free our descendants ever since Adam and Eve is just as much about Him freeing us from our own darkness as it is about Him freeing the captives. Whatever we experience alone or as a whole in society, is a continual process of divine love transforming darkness into light.
"Things fall apart and come together again" says the famous Buddhist teacher Pema Chodron. We as Christians say, Jesus dies, descends into the darkness and returns to the light of life again. The "descends into Hell (or Darkness)", part of the universally recited Christian prayer, symbolizes the times in our lives during which we receive exactly the kind of healing we need.
They say a patient has to tell the doctor what is wrong before he/she can assist. In times of spiritual darkness, we need to identify what is wrong with us and as a society and then to understand our reliance on a force much greater than ourselves to solve those problems through the light of love. By becoming aware of the darknesses, we can move beyond them. As we experience/understand them, we almost simultaneously affirm the greatness of divine light and love. As St. John says "the light shined forth in the darkness". It was never the other way around.
---
WELCOME TO OUR NEW GROUPS!
Meditation Chapel received an abundance of new (and seasoned) facilitators who responded to the need for additional groups since our last issue of Contemplative Times. It is a testament to the spiritual robustness of our community! If your new(ish) group does or does not appear on this list, please know that all of us at Meditation Chapel make a deep bow of gratitude to you. Thank you so much!
Please consult the Group Calendar on our website for your time zone.
1. "Zen in the Christian Tradition" (Miguel Leon), Mon-Thurs and Sat at 19:00 Central European Time, in the Peace Chapel
2. "Centering Prayer as the 11th Step" (Jim Bernlohr), Tuesday 19:30 EDT, and Thursday 11:00 EDT in the Thomas Keating Chapel
3. Nativity Episcopal Centering Prayer Group (Jim Payne & Brenda Chynoweth) Tuesday 18:30 EDT, Daily at 13:00 EDT in the Thomas Keating Chapel
4. Church of England Service (Sandy Munday), Sunday 10:30 GMT in the John Main Chapel
5. Centering Prayer Group (Shaun Dehne), Thurs, 21:00 EDT in the Thomas Keating Chapel
6. Fort Collins Friends Group (Bob Shively and Carol Reilly), Sundays, 12:00 EDT in the Thomas Keating Chapel.
7. Lectio Divina and Centering Prayer (Carolyn Goddard), Monday 8-9 am Central (Chicago) time, in the Thomas Keating Chapel
8. Centering Prayer (Sangha) Group in English (Corey Krupowicz), Daily except Thursday 1:00 pm (Time zone: Eastern Time US & Ca) in the Thomas Keating Chapel.
9. Sopro Místico (Mystic Blowing) em português (Simara Macedo Viera Martins), Monday 6 pm (Time zone: Brazil), in the John Main Chapel.
10. Church of Scotland Sunday Service (Rev. Elspeth MacLean), Sunday 6 am (Time zone: Eastern Time US & Ca), in the Peace Chapel.
11. Meditation Group (Clara Gagnon), Friday 8 pm (Time zone: Eastern Time US & Ca), in the John Main Chapel.
12. Centering Prayer Group (Martha O'Brien), Friday 8 am (Time zone: Central Time US & Ca), in the Thomas Keating Chapel.
13. Guided 30-minute Practice of the Welcoming Prayer (Mary Dwyer), Tuesday 10 am (Time zone: Eastern US & Ca) in the Peace Chapel, and (Therese Saulnier) Thursday 8 pm (Time zone: Eastern US & Ca), in the John Main Chapel.
14. Centering Prayer Group (Laurie Erickson/Carol Quest), Thursday 7 pm (Time zone: Central Time US & Ca), in the Peace Chapel.
15. Mindfulness Meditation Groups (Ami Schmid), Monday 12 pm (Time zone: Eastern US & Ca), in the Peace Chapel.
16. Oración Centrante (en Español) (Myrna Castro), Friday 8 pm (Time zone: Eastern US & Ca), in the Thomas Keating Chapel.
17. Oração Centrante (Em Português) (Sonara Carvalho Resendo), Tuesday 5 pm (Time zone: Eastern Time US & Ca), in the Thomas Keating Chapel.
18. Centering Prayer (Sharron May), Thursday 9 am (Time zone: Eastern US & Ca), in the Thomas Keating Chapel.
19. Drumming Meditation (Laura Waters), Friday 6 pm (Time zone: Eastern US & Ca), in the John Main Chapel.
20. Centering Prayer (Judith Richards), Monday-Wednesday 6:30 am (Time zone: Eastern US & Ca), in the Wisdom Chapel.
21. Centering Prayer – Healing in 2020 (Mary Lapham), Thursday 11 am (Time zone: Central US & Ca), in the Thomas Keating Chapel.
22. Primordial Sound Meditation Group (Judith Richards), Friday-Sunday 6:30 am (Time zone: Eastern US & Ca), in the Wisdom Chapel.
23. Movement of Breath (Tissy Palack), Monday-Friday 10 am and 5:30 pm (Time zone: Eastern US & Ca), in the Wisdom Chapel.
24. Centering Prayer (Cathy Mann Christiansen), Wednesday 8 am and Friday 5 pm (Time zone: Central Time US & Ca), in the Thomas Keating Chapel.
25. Centering Prayer Group for Expectant Mothers (Chinwe Ebele), Monday 5 pm (Time zone: West Central Africa), in the John Main Chapel.
26. Light a Candle for Hope (Prayers in the Pandemic) (Patti Couch), Sunday 3 pm (Time zone: Eastern US & Ca), in the John Main Chapel.
27. Centering Prayer (Extended) Group (John Farrelly), Daily 6 pm (Time zone: Dublin, Ireland), in the Wisdom Chapel.
---
THE FRIEND by Tom Amsberry
Has this irony ever occurred to you here at the Meditation Chapel? We arrive from all over the world to meet with some of the most interesting and fascinating and deeply beautiful people … with a technology that allows us such a unique opportunity to share the richness of our diversity in a way that never has been known … and then we proceed to spend almost half of the visit not speaking and not looking at one another!
Yes. Odd from the surface of things. We intend Silence. And Presence. And we discover that listening from the heart does flow to the well of Deep Healing. We welcome healing but in the call of that very process, we welcome into our lives the "unhealed" gremlins that roam around in our psychic crawl spaces and basements. They, too, find a place at the welcome table.
Thomas Keating has stated simply, "God is Relationship." Rumi, the poet, in a similar vein speaks of God often and affectionately as "The Friend." I love the fact that the word "friend" is a common word that graces the tongue and experience of so many of us in all our proclaimed diversity. And that it speaks simply and so powerfully of our human journey with and into the Divine.
A simple practice of healing in this "un-Friendly" time of the pandemic might be in the very act of be-friending and opening out more widely to those people and relationships in our lives, including the friendship we are called to with our very own souls. In all these, deep grace and wisdom awaits.
A few years ago my brother, Dan, befriended a homeless man and thereby allowed this friendship to take him where it would. A trip across state for a parole board hearing. Frequent calls for daily needs to the store on funds Dan had to scrap together. Calls and visits just to soothe the loneliness that is the deep ridge of being homeless. Dan was not just a friend; he was his friend. He was there for him. And all the thoughts, concern and care that keeps two hearts encircled in this Mystery.
I remember most powerfully one occasion where his friend wanted to see a special team on a big screen in a bar on a Sunday … a day when Dan faithfully went to mass at that very time. I'm not saying how each of us would process this decision, but Dan chose an act of sacrifice for friendship as the way of wisdom and found himself near a pint of beer instead of drinking from the communion cup. Shortly after, his friend died.
Contemplative prayer can open us up in this way and lead us out to places and hearts we never imagined. We begin to hear with our heart the hearts of those around us and are invited out … to the grace of finding The Friend and our own selves in an ever-expanding Circle of the Beloved.
---

Cultivating Joy in the Midst of Suffering
A 10-week free book study to
meditate, learn & practice
What is joy?
Obstacles to joy
The 8 pillars of joy
The Book of Joy
Dalai Lama & Desmond Tutu
The directed book study will meet on Tuesdays, starting June 23 and ending August 25. The class will be offered 12:30 pm to 2:30 pm Central Daylight Time in the Mindfulness Classroom on MeditationChapel.org.
Participants will read The Book of Joy: Lasting Happiness in a Changing World by His Holiness the Dalai Lama and Archbishop Desmond Tutu with Douglas Abrams. Each class will focus on key concepts from a few chapters of the book. Each two-hour class will be divided into three parts:
Meditate on a concept from the book and discuss your experience with the meditation
Interactively learn about and experience elements of what is in those chapters
Discuss and practice skills to cultivate joy
In between classes, you are asked to meditate daily and maintain a gratitude journal.. Each class will be limited to 10 participants to facilitate discussion and to encourage participants to connect meaningfully with each other over time. This is not a book group where we will discuss the book. This is a directed study where you will interactively learn, experience and practice concepts from the book.
You can REGISTER here or FIND OUT MORE ABOUT THE CLASS.
Sandra Miller, MSW, LCSW will lead the class. She has practiced insight meditation and centering prayer since 1981. Her classes are experiential. You don't learn about meditation – you experience meditation. You don't learn about thoughts and emotions – you experience them. You don't learn about joy — you cultivate it. The goal is to practice with intention to change your habits of thinking, feeling and sensing.
As a therapist, she uses three different mindfulness-based therapies. Since 2012, she has worked with almost 250 clients and seekers as individuals and in groups. She began leading Mindfulness-Based Cognitive Therapy (MBCT) classes for clients with clinical depression and anxiety in 2016. Using a book by Henri Nouwen, she adapted MBCT for people who want to strengthen their faith — developing the Living Mindfully in Christ and Awakening to Thoughts & Emotions classes. Using concepts from The Book of Joy, she adapted MBCT earlier this year to help participants cultivate joy.
---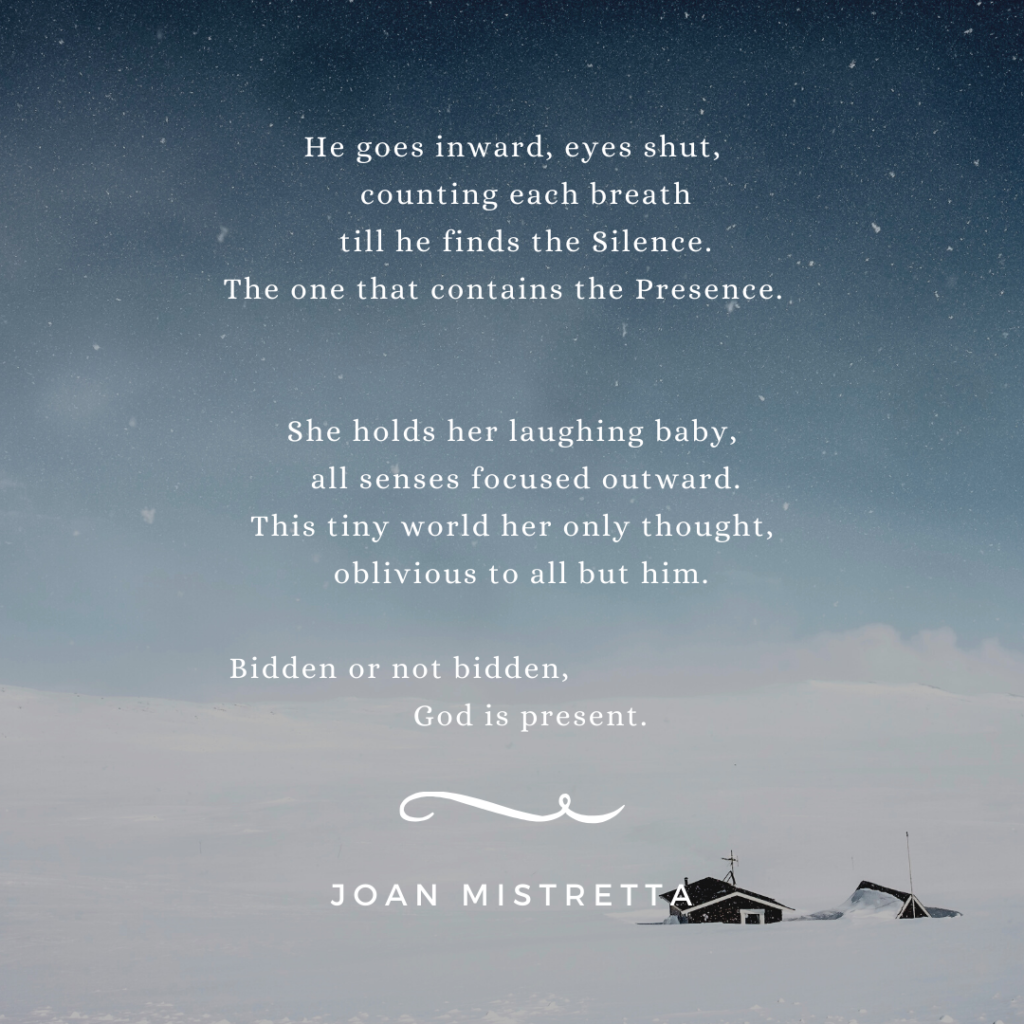 ---
MY MEDITATION CHAPEL by Clara Gagnon
They say life is an illusion, but here in the chapel my true self turns up.
I'm not really sure what happens here, but it's OK,
Is it the oneness we share and bear?
I love a great Mystery(God)
During meditation when my mind drifts off, I open my eyes and I see your beautiful faces and my attention is brought back.
Is it because we share of the Divine Image?
I love a great Mystery (God)
The Readings and the lectios and the sacred sharing, how is that, that this carries me through the day and the night? What really happens in this Beloved space? I'm not really sure but I love a great Mystery(God).
Does this mean my Amazon shopping days are over?
Probably not…
Does this mean I will never hurt again or hurt another person?
Probably not…
But somehow I'm not sure why, I can take a step back and look at the world from both sides. I don't have to pick a side, it doesn't matter, just breathe…
The meditation chapel, This Mystery (God), Where I can just BE, me…
---
FOSTERING A CLOUD OF FORGETTING   by Cindy Kuhn
Contemplation in the Christian tradition has been generally understood as a gift. Whether we call it silence, awareness, or presence, there is nothing we can do to make this experience happen. It is not a matter of worthiness or unworthiness; God grants this gift to whomever God pleases. But that is not to say that we don't have a part to play in the reception of this gift. We are simply asked to do our part and trust that the rest will be done for us.
What is our part to do? First and foremost, we are invited to participate in the practice or discipline of carving out space in our daily life to linger in prayer. That is to say, to stay at prayer longer than necessary because of our reluctance to leave while holding, in the words of the author of The Cloud of Unknowing, "a naked intent direct to God." We gently and repeatedly let go of all thoughts, including thoughts about God. This is our part when we are on the cushion.
But I discovered something about my own experiences of silence during my time as a chaplain in a large university medical center that led me to understand that there are other things we can do to prepare for the reception of the gift of presence. I noticed that there were four qualities, for lack of a better word, that always seemed to be at play prior to the reception of this gift. Qualities we can cultivate in our daily life so that they become a part of who we are without thinking about them.
The first of these is an awareness of God's presence. As I crossed the threshold of a patient's room, I was briefly but consciously aware that I was stepping onto holy ground. God is present here and I need to speak and move with that deep awareness and reverence. Of course, there is no place where God is not present, but in this moment I was consciously aware of God and by my awareness of God's presence was trusting to nonverbally communicate this. I rarely directly spoke of God and never asked a patient their religious affiliation, if any, and I never offered mine. God was present not so much in words as in what flowed between us.
The second quality is a grateful heart. Early on in my ministry, I became consciously aware of having deep gratitude for the opportunity to do the work I was called to do. I never ceased to be amazed at the generosity of spirit the patients I visited showed me, even the terribly ill and suffering. "I was a stranger and you welcomed me." The gracious hospitality of these hurting and vulnerable people as they invited me into their sacred space flooded my heart with gratitude. Gratitude abounded in the space as they, too, were grateful to be cared for.
The third quality is a willingness to let go of all expectations. What does it mean to let go of all expectations in this instance? It is the ability to accept Reality on its terms, not mine. Quite literally, I let go of the expectation to be warmly received. My approach was, "nothing in it for me." I was there for the patients, not them for me. I took no offense if a patient did not want a visit or was in a negative mood. I met them as they were, and their moods did not color my interactions. If they were angry, anxious or fearful, I simply met them where they were allowing them to feel their anger, anxiety or fear. But, amazingly, I never left them in that condition because the funny thing about grace is that "it meets us where we are but doesn't leave us where it found us." (Thank you, Anne Lamott for that one.)
The fourth quality I observed was a willingness on my part to be completely vulnerable. This means dropping all defensiveness and fear of rejection, of not being enough, or of causing offense. It involves a willingness to accept myself as I am without fear of being seen or not liked. It involves a willingness to let go of feeling safe and secure and bracing against the unknown. It involves a willingness to let go of control and to not come undone when the awareness of one's own powerlessness is abundantly clear in the situation. It is dropping the sword and shield that are always at the ready and allowing what may to come.
Taken together, these qualities of awareness, gratitude, vulnerability and dropping expectations have the combined effect of producing self-forgetfulness. From The Cloud of Unknowing, they help to foster a "cloud of forgetting." They help one to focus on The Other, whomever The Other might be, instead of oneself.
Contemplative practices themselves help to foster these qualities in one's daily life so practice on the cushion supports practice off the cushion and vice versa. Having discovered these four qualities that always seemed to be at play in my own experience of silence, I set about the work of consciously cultivating these qualities in my life off the cushion, trusting that if I do my part the rest will be done for me.
---
WHAT PEOPLE TELL US by Roger Sessions
Every time somebody registers with Meditation Chapel, I get an email with their responses to the registration questions. One of our questions is, "Is there anything else you would like to tell us?" This is my favorite question, because many of the answers are beautiful, like little prayers. Here is a small sampling of how people have responded. Some have been edited for style and/or spelling.
Aloha to all.  I bid you peace, harmony and joy.

Christian, seeking a deeper relationship with God.

Embracing my second half of life and the mesmerizing depth to which God is gently teasing me.

Estoy muy contenta de poder participar de este espacio de oración. [I am very happy to be able to participate in this space of prayer.]

Excited to find you! <3

Excited to meditate in a group!

Grateful to find and be part of this community

Gratified that this platform exists.

I am a bit shy but I really want to give this a try

I am currently homebound with an illness and miss meeting with others to meditate.

I am excited to try this platform, thank you so very much for this ministry

I am going through a crisis of sorts as I shift from an exclusivist view of God, Jesus, salvation, and enlightenment. I realize I need to meditate more and bypass my confused belief systems. I have an established practice but need more of a sense of community.

I am going through the experience of caretaking for my wife who has a terminal illness.

I am grateful for this community particularly during this time when physical meditation centers are closed down.

I am grateful for this opportunity to meditate with others now that we are in isolation it is good to connect with others.

I am looking for a group whose leadership is loving and accepting.

I am on a journey of trying to awaken spiritually and connect with like-minded people.

I am so appreciative we have found this site to continue our practice together during this difficult pandemic time

I am truly grateful for your work helping people deepen their spirituality through your online meditation chapel.

I am very grateful to you for making this opportunity to pray together available to the world

I feel better if i just pray rather than keep thinking of my problems in life.

I have been meditating daily for 26 years.  Has made the biggest difference in my life of anything I have ever done!

i have never tried online meditation before, because of the virus i am unable to attend groups or attend church.

I have used centering prayer as my main discipline of prayer for 35 years.  I am so very grateful for this prayer.

i have very little experience with silent meditation but would like to learn

I love contemplative prayer.

I love this offering.

I love you.

I love your initiative, glad I found it.

I'm not sure I'll be accepted as I've been an atheist who is now doubting atheism.

I need to meditate ! I'm a beginner.

I need to return to meditation.

I pray for your continual blessings in your ministry.

I saw information about meditationchapel on the Contemplative Outreach Instagram page and was excited to learn more about this incredible opportunity to join with others.

I'm a stay at home mom so I may not always be able to join.

I'm a US expat from Arizona in Indonesia.

I'm blind.

I'm curious.

I'm excited!

I'm glad to be alive.

I'm glad to have discovered your website and chapel as a resource.  Looking forward to participating!

I'm grateful to have found you today thank you <3

I'm hungry for more

I'm looking forward to using this tool to help move forward my own enlightenment and that of humanity.

I'm new to this and looking forward to the experience. Thank you for making his available to me

I'm unable to be in groups of people due to severe multi chemical sensitivities, so I was very pleased to learn that I could be in an online centering prayer group.

I'm very happy to find this site. I hope that it will be helpful for me to increase my faith about the word of God.

I've been a beginner for many years but intend not always to be so.

I've been looking for you

I'm disabled and being able to work online is a great opportunity for me.

I'm grateful for your work to support contemplative prayer, a practice I believe is as counter-cultural as it is essential.

I'm looking forward to sharing the sweet sacred silence with others. What an enriching gift that fortifies us all to be vessels of God's love in this world. I'm so very grateful for this opportunity and for the work of those who make it possible.

I'm very excited to join this meditation community!

I would just like to join a group that is bringing light and love to our beloved planet earth. I believe joint prayer and meditation can be more powerful than individual. 

Joining this group because I think my current group might be suspended until we get through the COVID19 virus situation.

Just 'Thank You' for this opportunity

Just how grateful I am!

Learning and loving every minute of it. Thank you for letting me join y'all.

Life in a small town is nice but an absence of meditation personnel is a shame.

Looking forward to centering with a group

Looking forward to meeting fellow contemplatives.

Looking forward to praying with community

Love meditation, it's very healing!

Love the meditation chapel!  I sit in on four of them.

Many thanks for the opportunity. You guys are the heroes for making it free in the times of app stores, VCs, and unit economics.

Need a community of meditators

Peace , Love & happiness

Peace and blessings

Peace of Christ be with you

Roger is awesome! [I'm sorry, I just had to include this one. – Roger]

So excited to have found you! So cool these are happening all over the world.

Thank you for doing this. I'm not coping emotionally too well with these scary times.

Thank you for ease of access to talks, listening and really helpful

Thank you for offering this resource to support my spiritual growth and my Centering practice.

Thank you for providing this online Chapel for meditation and Contemplation.  It's difficult for me to get out for health reasons, so I appreciated the opportunity to join a community of prayer.

Thank you for the many hours invested in organizing this community.

Thank you for this platform, I look forward to participating in centering prayer with other like minded souls.

Thank you for starting this Meditation Chapel 🙂

Those are hard times for me, but in order to overcome that I'm bringing all my energy back to myself, to my healing, to my learning, to my growth. What that I'm seeking here is a way to feel this energy and evolve.

We love Fr. Vincent 🙂

You come highly recommended! Thank you for making this available.  Looking forward to participating.
Don't you love these? This is just a small sample, but it gives you the idea of how much people appreciate what we are doing.  And what a wonderful community we have together created.
---
Copyright © 2020 Online Meditation Chapel, All rights reserved.