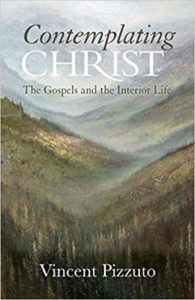 When
Saturday, 06 April 2019 at 12:00 PM-1:30 PM Mountain Time
Check our Meditation Chapel Calendar to find out what time this is in your local time zone.
Where
This event will be held in The Peace Chapel at MeditationChapel.org. You will receive the link to The Peace Chapel when you register with Meditation Chapel. The Peace Chapel is a virtual online meeting place, so you can participate in this event from anyplace, as long as you have a computer and an Internet connection.
The Event
In our Lenten online forum, Fr. Vincent will give special attention to chapter four of his book, Contemplating Christ, which explores contemplative practices in light of our struggle with our inner demons.
The incarnation has made mystics of us all. What if we read the gospels as if that were true? In Contemplating Christ, Vincent Pizzuto offers an exploration of Christian mysticism for modern contemplatives that is as beautiful as it is compelling. With an emphasis on the gospels and Christian mystical tradition, his book explores ancient themes in new and surprising ways. Drawing upon his rich experience as an academic and priest, Pizzuto gradually unfolds the mystery to which the whole of biblical revelation and the Christian contemplative life are ordered: that through the incarnation, all human beings have become 'other Christs' in the world.
About Fr. Vincent Pizzuto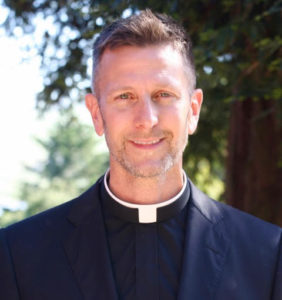 Fr. Vincent Pizzuto, Ph.D. is Professor of New Testament Studies and Christian Mysticism at the University of San Francisco.
Ordained to the priesthood in 2006, Fr. Vincent founded New Skellig, a contemplative community rooted in the Celtic Christian tradition.
In 2017 he was appointed Vicar of St. Columba's Episcopal Church and Retreat House in Inverness, California. Throughout his brief ministry he has brought to St. Columba's a vibrant spirit of openness and hospitality along with considerable academic breadth and theological depth. Working for the advancement of contemplative Christianity, Fr. Pizzuto has reinvigorated the mission and ministry of St. Columba's through the introduction of Celtic Christian liturgies, contemplative workshops, public lectures, directed retreats, and weekly meditative sits.
In addition to articles published on a variety of subjects, Fr. Vincent is the author of two books, the latest of which was published in April 2018 with Liturgical Press. Entitled, Contemplating Christ: The Gospels and the Interior Life, his book seeks to bring his readers into a lived realization of the Christian doctrine of "Deification" – that is, the affirmation that through the Incarnation, we have all be made partakers of the divine nature. It is this book which will serve as the subject of his online presentation.
Cost
There is no cost for this event. We hope you will join us for one of our regular online meditation groups!
Sponsored by Contemplative Outreach.